Phase I: Children's Ministry
· To bring two inner-city children 7-16 years of age to a local farm for a weekend to experience a new kind of life, to see, smell, feel, hear nature and experience relationships a Christian farm family and adults that will show them Jesus in a real way. Changing lives in Christ and by creating the environment to ignite the imagination.
· Teaching Object Lessons uniquely positioned in various locations of an actual Farm environment.Taking that which is physical to teach that which is spiritual (Hebrew picture imagery) and in so doing, producing fruit through volunteers such as yourselves, in order to change the lives of those whose hearts the seeds of Truth are implanted. This hands-on approach, which employs all five senses makes Jesus and the gospel real to them, in a way they can apply to their lives.
· Loving and Nurturing environment - Experienced in the sharing and actions of the farm family and those facilitating the ministry, whether it be sowing and reaping in the field, preparing the meal in the kitchen or tending to the animals in the barn.
We limit the week end to working with only two children at a time, utilizing problem based learning, because we are more interested in reproduction rather than mass production. This also insures appropriate supervision and satisfies the necessity of safety in the farm environment. Individually, children are learning Gods love through the teaching of responsibilities in this loving and nurturing environment. The goal is to cultivate biblical principles for living, not just at the farm but for life.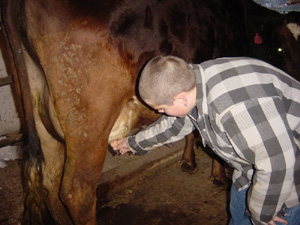 Milking a cow for the first time is an experience that is grafted on the heart and is utterly impossible to forget.


Connecting this experience with a Spiritual truth.


Hebrews 5:12-14 teaches us that we start out on milk, but we move on to solid food so that with our senses trained we can discern good from evil.


This child will never forget his first time milking a cow and connected to it will be a spiritual truth he will never forget.


Milk is not enough to satisfy our physical bodies,
so then why would it be enough for our spiritual selves?




Imagine an Robert an 8 year old boy catching fish for the first time in his life!

His Imagination is ignited , his heart is plowed and ready for the master to plant the seed

It is that moment he is taught -- Jesus said "Follow Me and I will make you fishers of men".

Then the Bible Dude helps him work through exactly what Jesus meant.

He will never forget his first fishing experience, nor will forget the spiritual truth connected to it.




Can you run a race with a stone in your shoe?

Brandon is learning Hebrews 12:1-2 Lay aside every encumbrance and the
sin which so easily entangles us
that we might run with endurance the race that is set before us, fixing
our eyes on Jesus.


We pray for the Lords provision to implement the following Phases II, III and IV
Phase II: Missionary Respite
Place of respite and refuge for the individual or family to retreat from the Mission fields. In a relaxing atmosphere and sanctuary to seek the Lords direction, providing the climate for study and meditation in reflection to regroup.
Work - Often individuals, in administrative positions or otherwise, find it relaxing to engage in repetitive or vigorous physical labor.
Rejuvenation - To provide a base from which the individual can do fund raising, take classes, visit relatives and work on family issues. And to worship God as a family in a atmosphere of encouragement, comfort, safety and privacy. So they can re-enter the mission field with renewed vision, passion and purpose.
Phase III: Work Ethic Cultivation

We utilize a strategy called Problem Based Learning or PBL techniques where real life problems and circumstances provide the context for change. This motivational learning is not based on how many facts you have but rather how these learning experiences are organized. We believe the key to efficient learning and recall is dependent upon organization.

The participant's prior knowledge must be first be activated, making a framework for new information. There then needs to be opportunity to assimilate new knowledge, and practice it in a safe environment. PBL seeks not to cover as much information as possible but to uncover. It is our goal that participants experience dynamic agricultural object lessons coupled with Problem Based Learning in a loving and nurturing environment. All of this is to implant the seeds of truth and moral lessons of integrity geared to equip them to circumvent the cycles of homelessness and the possibility of future incarceration through self discovery.
To work with 4 - 6 adult men three weekdays, who are perhaps clients of the local Missions or Jubilee Ministries, who are in need of understanding who they are and worth in Christ with a new work ethic.
Focusing on team building skills.
Giving them an opportunity to employ their particular skills and abilities in a farm environment.
Implanting the seeds of Truth with the various object lessons stations throughout the farm environment in reference with the tasks that they are performing and in the process teaching them work ethic.
Clients may also benefit from this ministry by taking the food back to the Mission to be sold in their own Fruit Stand economically and affordably priced for the neighborhood or used in the cafeteria, shared with the other residents, so as to enjoy the fruits of their labors and in the process build their understanding of who they are and their worth in Christ.
Phase IV:
Equine Assisted Learning (click to view flyer)
Therapy with the use of horses is an amazing and powerful way to heal individuals of all ages with physical, cognitive, emotional, and developmental challenges. Our programs are safe and effective. The success you can achieve is priceless.
We use horses in a non-traditional way to help participants discover what obstacles are in their lives and how to overcome them. Our programs create experiences that ultimately foster and promote healing in a Christ centered environment. Through these experiences you will learn to:
Develop Trust
Build Healthy Relationships
Communicate Feelings
Solve Problems
Build awareness of God
Know Who You Are in Christ
Greg has devoted his life to helping people using agriculture and horses with the goal of providing an environment for emotional and spiritual healing.
Horses provide vast opportunities for metaphorical learning, which is affective technique even when working with the most challenging individuals or groups.
The horse will often exhibit the same characteristics of the participant or someone they know or work with on a daily basis. As the horse mirrors these behaviors they provide the opportunity to explore lessons to be learned interactively, consequently they see the need for change in themselves in a non-threatening way and through the process they learn new strategies in problem solving.
Because horses are sensitive and innately intuitive they have the ability to show us intimacy and teach us about relationships and the importance of creating and preserving personal boundaries. Being with them and around them is an empowering experience – one that will encourage us to feel, reach out and connect with the world around us.
Greg has certifications for working with the following areas
Emotional health and growth of Families Equine Family Time
We provide opportunities for families to encounter a custom tailored equine experience of a life-time. By focusing on the emotional health and growth of families, we provide equine learning activities designed to address the adversity and challenges that often occur within the family.
Team building and leadership training for business groups.

EAL Team Building

Crisis prevention and management we have certification to work with veterans as well helping them to learn new strategies for processing their environments.
The Book of Reproduction:
· Sharing the vision of creating Spiritual Fruit Farm with Christians far and wide. To share the answers to prayer, the struggles, the lessons learned through mistakes made. To share the victories and the defeats how God brought good out of mistakes made - - to encourage others who have the same calling and show how to go about reproducing the Spiritual Fruit Farm in their ministry without having to reinvent the wheel. We believe this ministry is a reproducing organism.
· Financial Profit from the book would go back into the ministry.
Roots:
· Grounded firmly in Jesus Christ
· Steadied by the wisdom of a Board of Directors composed of Godly men and women with skills in areas that would most be excited to help in the Spiritual Fruit Farm vision. For direction and guidance in areas of agriculture, non-profit organizations, finances, law and the spiritual guidance of a pastor.
· The V Team: Volunteer teams of individuals or families who desire to start a tradition of ministry within the context of a family, to be passed down generationally.